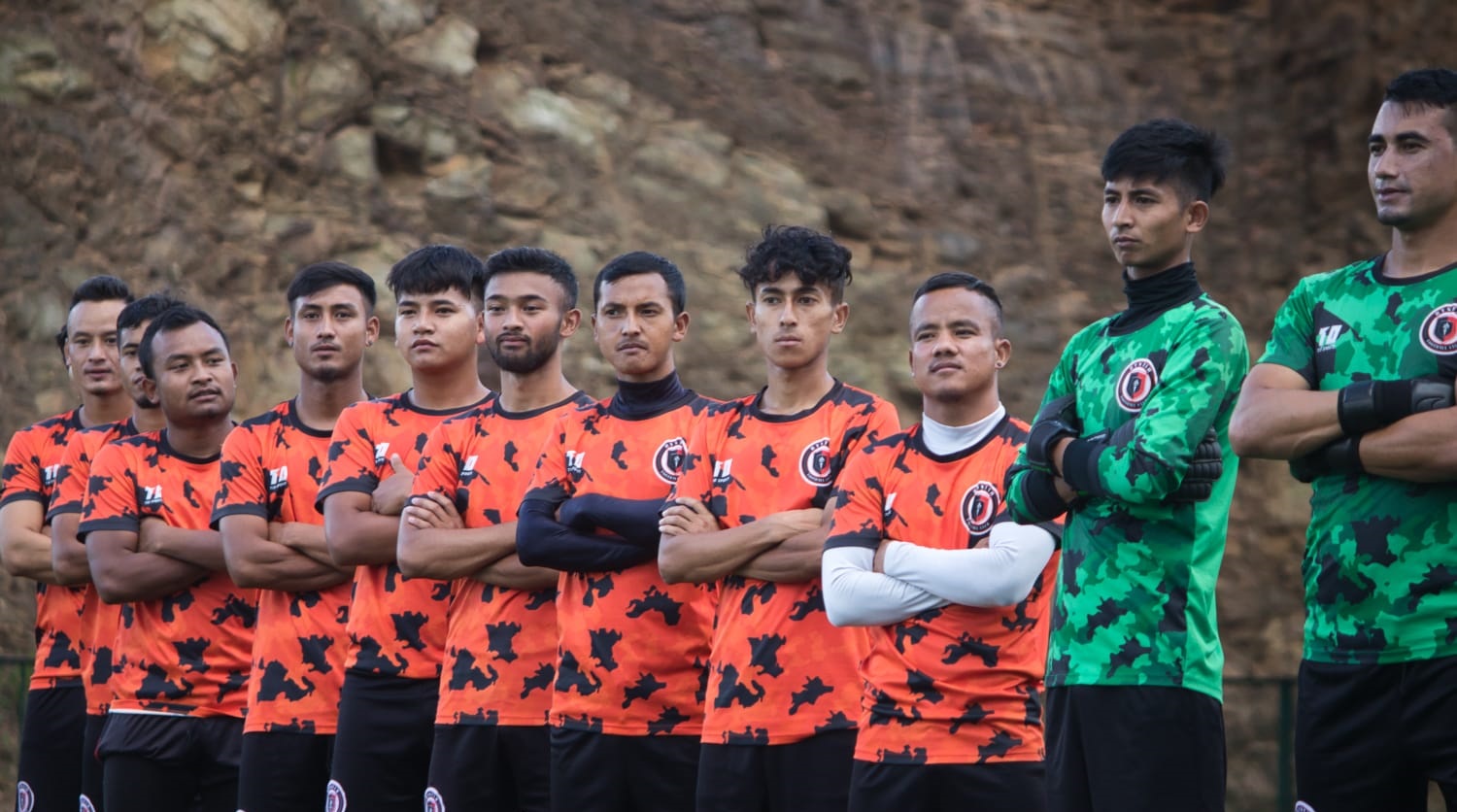 AIFF MEDIA TEAM
BENGALURU: The opening fixture of the Hero I-League Qualifiers 2021 will see two debutant clubs in Rajasthan United FC and Ryntih Sports Club face off against each other at the Bangalore Football Stadium in Bengaluru. Excitement is running high in both camps ahead of the first match, which is set to kick-off at 3:45 PM IST on October 4, 2021. The match will be streamed live on the Hero I-League's official Facebook page.
Newcomers Rajasthan United FC (RUFC) will be keen to put the marker down in their opening game as the club sets out on a quest to become the first side from the state of Rajasthan to play in the Hero I-League. RUFC have made their way to the Qualifiers as a result of winning the Rajasthan state league.
Speaking about RUFC's approach ahead of the opening encounter, assistant coach Anil Tomar said, "Our message to the boys has been very clear. We need to play together as a team, without fear. We need to believe in ourselves and continue to implement the same strategy that we have already practiced in our practice matches earlier. The idea is to not worry about the strengths of the opponent and focus on playing our own game."
Assistant coach Anil Tomar also took a moment to speak about Ryntih Sports Club – RUFC's opponents in the first match. He said, "We know that they are a very quick team who like to build-up with short passes. We have taken these factors into account in our preparation for the game."
RUFC Captain Vishal Joon also weighed in on the team's preparation for the Qualifiers in the virtual pre-match press conference. He said, "Our expectations from ourselves are really high for this campaign as we have had a good pre-season in Goa. Our team management, coaches and players have worked really hard for this competition. Our confidence in the pre-season friendly matches has been really good. I am convinced that everyone in the team is ready to give 100 per cent in the Qualifiers."
Clubs based in Meghalaya have had a rich legacy of competing in the Hero I-League in seasons past. Ryntih Sports Club (Ryntih SC) will be the latest club from the state who are looking to carry that tradition forward. The Shillong-based side have arrived in Bengaluru with a relatively young squad bereft of any foreign players.
Ryntih SC Captain Banpynkhrawnam Nongkhlaw believes that the strength of the team lies in the close bonds of friendship and chemistry that the team have built over a period of two years. Nongkhlaw said in the virtual pre-match press conference, "Together as a team, we have not just been playing together, but we have also been staying with each other for the best part of the last two years. We always try to find opportunities to spend time together off the field as well. This has developed a very good equation in the squad. We know where each member in the team stands – we know our strengths and weaknesses as a group. Our mentality is very strong and fairly straightforward – we always try to go for a win in each match we play. It is going to be the same in this tournament. Thus, I believe that it is going to be a good competition and good experience for us."
Ryntih SC are coming into the Hero I-League Qualifiers on the back of a string of successes in domestic cup competitions in the last two years. After winning the Rani Motors knockout tournament at Laitkseh, Meghalaya in March 2019, they went on to triumph in the 11th Bodousa International Cup in Assam and the 5th open-to-all tournament in Wahiajer, Meghalaya.
They followed up on these results in 2020, as they won the 9th All India Chief Minister's Gold Cup tournament in Sikkim in January, followed by a runners-up finish in the Bharat Ratna Dr. BR Ambedkar Memorial Invitation North-East football tournament in Assam in February.
This track record gives the team confidence, but Nongkhlaw believes Ryntih SC can take nothing fro granted, as the Hero I-League Qualifiers are bound to be a step up in competition. Nongkhlaw adds, "The I-League Qualifiers are going to be tough, and different from the tournaments that we have played so far. Every team is coming from a different part of the country here, and they will all have a different mentality about how to approach the game. I think Ryntih might well be the underdogs in this tournament, as this is our first time here and we have a squad full of local players. However, we will be ready to bring the fight in all matches, and we are prepared to give tough competition to any team in the tournament."
Head Coach Khlainpyrkhat Syiemlieh went on to highlight that the team have prepared for a long time to compete at this stage, but circumstances have not always been easy for Ryntih. He said, "We have wanted to compete at this stage for a long time, and our goal is to play in the I-League. For the Qualifiers, we have trained rigorously for the last two months. We have focussed on practicing internally, as we have not been able to get practice matches due to the pandemic situation. Overall, I am happy with our pre-season and ready to return to competition."
Both teams will be looking to get their first points on the board in the first Group A encounter in the preliminary round of the Hero I-League Qualifiers 2021.