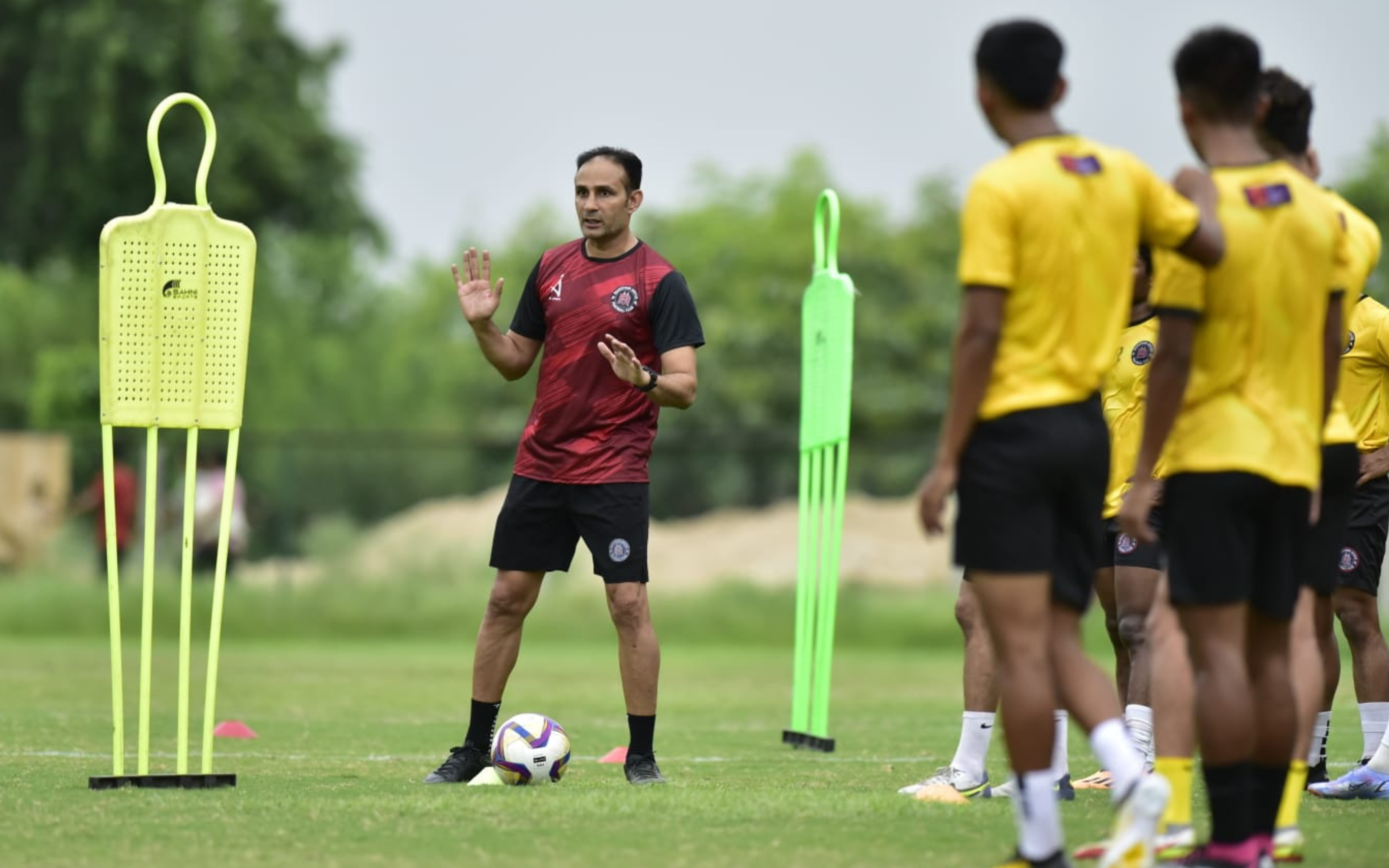 Akhil Rawat
AIFF Media Team
NEW DELHI: Rajasthan United FC, one of India's latest professional clubs, have taken a liking to the Durand Cup, Asia's oldest competition. Considered as the rank outsiders in a group of heavyweights containing the likes of ATK Mohun Bagan, East Bengal and Mumbai City last season, nobody gave the Desert Warriors any chance.
However, the first team from Rajasthan to play in the Durand Cup in 40 years left the ISL's big guns stunned and qualified for the knockout stages. While the fairy-tale run was a glittering moment in head coach Pushpender Kundu's young coaching career, he and his team have landed in Guwahati for the 2023 edition, hoping to do even better this time around.
"Whoever plays football in India, the Durand Cup is always special for him," says Kundu. "There are many new players in the team, who are very excited to play this time. We started our pre-season two weeks back, and things are going well so far."
Going up against ATK Mohun Bagan on their Durand Cup debut last season was an honour in itself for Kundu, so beating them was an unimaginable feeling. The manner of winning matters too, especially when you're up against a Kolkata giant on their own turf.
"Last season was very historic and special because defeating a big and famous team like Mohun Bagan is a big achievement as a coach. It is a great honour for any football player and coach to play against Mohun Bagan and beat them. That moment is very special in my life," describes Kundu.
Teenager Nikum Gyamar tapped home the winning goal deep into injury time at the iconic Vivekananda Yuba Bharati Krirangan, announcing Rajasthan United's arrival on the big stage in style with his shirtless celebration.
Right-back Hardik Bhatt cannot help but smile as he reminisces about that special day. "Our first game against ATK Mohun Bagan showed our team spirit. We went behind twice and came back to equalise both times before eventually scoring the winning goal late on. It gave us a sense of confidence that we can take on all big clubs. That was a special moment for me and the club," says the 26-year-old.
Rajasthan United's campaign came to an end with a 1-3 loss to the then ISL champions Hyderabad FC in the quarter-final. They were one of the only two I-League sides to make it to the knockouts alongside Mohammedan Sporting. Bhatt believes the Durand Cup isn't just a pre-season tournament but a window of opportunity to shine and make your name.
"For me and the club, the Durand Cup last year was magical. This competition is an opportunity for the I-League clubs to go against the best in the country, which gives us a lot of experience and exposure against top players. It's a chance to grow, a chance to be seen.
"The management, coverage and the whole organisation of the Durand Cup is brilliantly and professionally handled. The young players get a chance to do their best against the best in the country," adds Bhatt, who spent the back end of last season on loan at ISL League Shield Winners Mumbai City FC.
Rajasthan United begin their second Durand Cup campaign against local side Bodoland FC on Saturday, August 5. With Odisha FC and Indian Army FT completing the Group F line-up, it may not be a group of death like last season, but Kundu nevertheless expects tough competition. The toppers and two best-ranked runners-up across all six groups will qualify for the quarter-finals.
"All the teams in our group are good. All the matches are expected to be excellent, and the first target of our team will be to make it to the quarter-finals like last year," says Kundu.
"With the kind of performance Rajasthan United put on in the Durand Cup last year, the expectations of our fans have increased even more. We will try to write another chapter in the Durand Cup this season. We are ready for the challenge," he concludes.