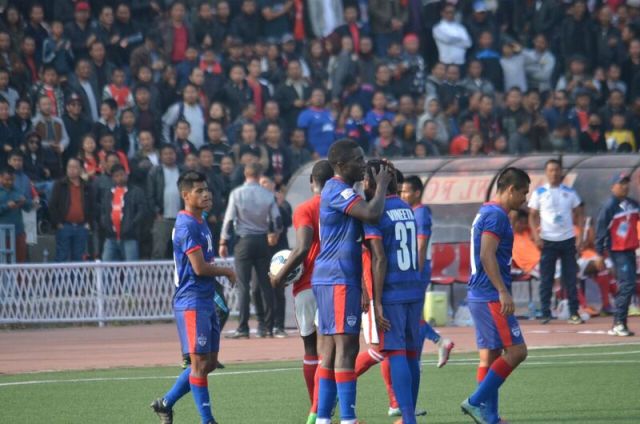 By I-League Media
AIZAWL: Bengaluru FC leaves Aizawl with all three points, thanks to the lethal header by Kenyan defender Curtis Osano in 26th minute. With the narrow win over debutants Aizawl FC, 2013-14 champions earned their second successive away win in as many outings in Hero I-League 2015-16.
The eagerly awaited match between Aizawl FC and Bengaluru FC kicked off at 1 pm at Rajiv Gandhi Stadium ahead of a cheering crowd. Undeniably, it's one of the historic day in Mizoram football history as they host their first ever Hero I-League match.
Clad in their Red-White-Red home kit, the Aizawl side attacked early on in the match, and had a good start. In 3rd minute of the match, Bengaluru FC custodian Ralte cleared a feeble shot. Thuammawia shows his skills once again in 16th minute while he denied none but Aizawl FC skipper David.
In the second half, Aizawl FC continued to attack but could only create half chances for themselves. They had several dangerous shots but Thuammawia's well-timed saves and the defenders were next to impossible to get through for AFC.  Fully aware about the fact that three points are up for grab, Bengaluru FC mellowed down the pace of the game and almost shut the shop. In spite of superior ball possession, hommies failed to convert the chances akin to their first outing in Hero I-League.
BFC's coach Westwood comments after the match, "It was a tough game and the pitch was pretty lively. Thuama made spendid saves and he truly deserves to be the Hero of the Match today."
Aizawl FC coach Manuel takes it one match at a time and he denies to be outplayed today, "I truly believe we played a better football today. we had 14 corners against a side in the liks of Bengaluru FC and that speaks for itself." Upon being further questioned, he also confesses that Aizawl FC need to improve in every department to catch up with other sides of Hero I-League.