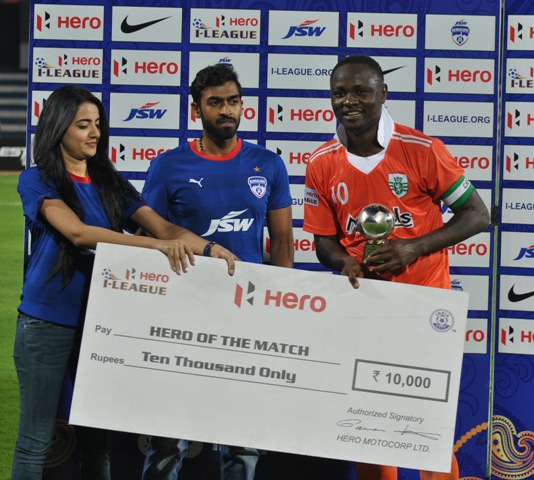 By I-League Media
BENGALURU: Odafa Okolie, the lethal striker, struck in each half to amass a mammoth away win for the Flaming Oranje tonight. With the second away win tonight, Sporting Clube de Goa climbed up to the 6th spot with 7 points while Bengaluru FC maintain to stay at the pinnacle with 12 points.
Bengaluru FC almost found the back of the net before the crowd could hardly settle down at Sree Kanterava Stadium. They forced the first corner in the 6th minute of the game, but the effort from the debutant Michael Collins sailed over the crossbar.
Much to the horror of the vociferous home crowd, Flaming Oranje went ahead with a goal from veteran striker Odafa Okolie in the 9th minute. Central defender John Johnson came out from the box, after losing possession, failed to fall back on time, therefore leaving Odafa open and he didn't waste the opportunity to slot it home.
Sporting Clube de Goa enjoyed the ball possession for the next 15 minutes superbly controlled by Oranje midfielder Densill Theobald.
In the 20th minute of the game, a foul was committed on Odafa. The free kick from a dangerous position got deflected via Bengaluru FC player in a corner. While the corner was about to be taken, Sporting Clube de Goa defender Ravanan elbowed Alwyn Goerge inside the box. Referee Venkatesh flashed yellow in no time. Ravanan had to leave the pitch, leaving his team down to 10 men.
The last 15 minutes of the first half saw relentless attacks from the Blues with no joy in their way, perhaps much to do with Chhetri's off-form today and stout defending from Loveday and others.
Luck was not on the hosts' favor until the first quarter of the second half, when a series of attacks failed to see the back of the net. Meanwhile, Ashley Westwood substituted Thoi Singh with speedy Beikhokhei.
Eventually, the equalizer came on Bengaluru's from CK Vineeth in the 64th minute when his shot went past Sporting keeper Arindam Bhattacharya.
The eleven thousand strong spectators' joy was shortened when Odafa's powerful shot from the top of the box gave 10-men Sporting Clube De Goa a 2-1 lead in the 73rd minute.
Despite playing with one player less, Sporting enjoyed their share of attacks primarily constituted by Odafa. Their keeper had an excellent outing today, coming accurate in most of the time.
Odafa Okolie was adjudged the Hero of the Match for his stupendous show tonight.