Rajasthan United 1 (Ragav Gupta 90+4')
lost to
Mohammedan Sporting 2 (Bikash Singh Sagolsem, 45', Eddie Hernandez, 71')
AIFF Media Team
HYDERABAD: Football thrives on the unpredictability of chances and it's essential to grasp these fleeting opportunities when they arise.
Mohammedan Sporting did just that against Rajasthan United FC to notch up a fine 2-1 win in the 2023-24 I-League at the Deccan Arena in Hyderabad on Saturday, November 18, 2023. For Mohammedan Sporting, Bikash Singh Sagolsem and Eddie Hernandez were the scorers. Ragav Gupta reduced the margin for Rajasthan United.
The win helped Mohammedan Sporting leapfrog Gokulam Kerala to the top of the points table, albeit temporarily. They now have 13 points from five matches, including four wins and a draw. Rajasthan United are languishing at the 12th spot with three points from five matches. This was the Kolkata side's third win on the trot.
It was Rajasthan United who started the match on an attacking note and created a flurry of chances. However, the profligacy of the forwards meant that they couldn't find the net in the first half. Mohammedan Sporting, on the other hand, struggled initially and took time to settle down. They missed the services of Argentinian forward, Alexis Gomez, and Uzbekistan midfielder, Mirjalol Kasimov, both of whom were suspended for the match.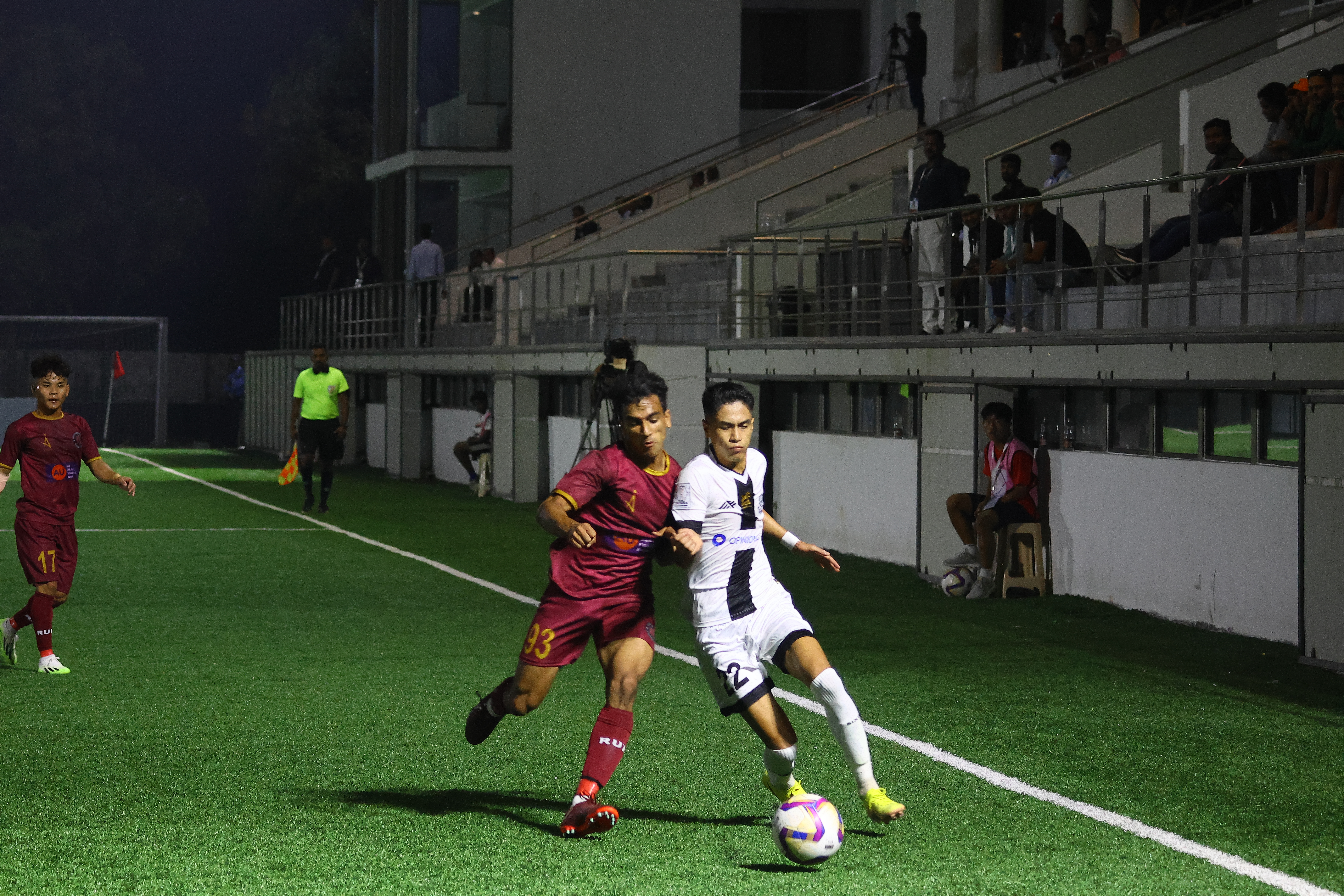 However, Mohammedan Sporting capitalised on the chances they created and took the lead in the added time of the first half. Salam Ranjan Singh delivered a cross from the right. Wahengbam Angousana Luwang laid it off in the path of Sagolsem, who easily slotted it past Rajasthan United goalkeeper Bhabindra Malla Thakuri for Mohammedan's first goal.
Rajasthan United regrouped during the break and tried their best to make a comeback in the second half. However, it was Mohammedan Sporting who extended the lead in the 71st minute. Wahengbam Angousana Luwang was the orchestrator of the move as the midfielder made a dashing run from the midfield before giving a lateral defense-splitting pass to Hernandez. The forward hit a powerful shot which found Thakuri stranded.
Rajasthan United found a consolation goal in the dying minutes of the match. Ragav Gupta hit a long ranger from outside the box to score a brilliant goal. However it was too little, too late.