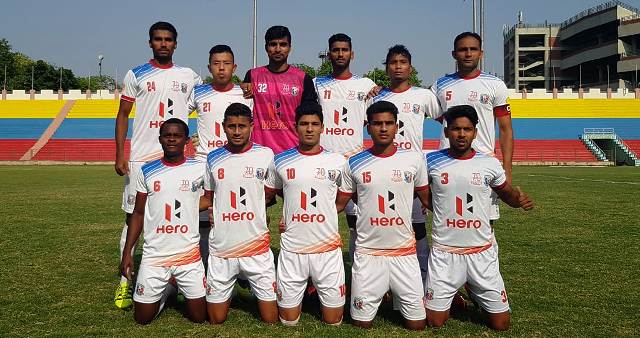 AIFF Media Team
BENGALURU: Hindustan FC edged past TRAU FC 1-0 to begin their campaign in the Hero 2nd Division League final round on Thursday (May 24, 2018) at the FSV Arena in Bengaluru.
Although TARU went into their opening match of competition as hot favourites but it was Hindustan FC who stunned them thanks to a second-half stoppage time goal by substitute Tushar Chaudhary.
The game started at a furious pace with TRAU' as expected' pressing high to nullify Hindustan FC's effort to rapidly circulate the ball. It was a fascinating tactical battle although' at times' a little predictable.
Resultantly there was a lot of possession turn over and not enough in the way of scoring chances.
The first real opportunity came after 17 minutes when Hindustan FC goalkeeper Mithun Samonto made a save from Princewill Emeka' who had done well to turn the defence and put himself into a shooting position. But the Nigerian forward failed to get any real power behind his shot.
On the half-hour mark' Emeka hit a wild effort from a tight angle well off target and eight minutes later winger Malemnganba Meitei rose unchallenged to head a free-kick narrowly wide.
Hindustan FC's only chance of the first-half fell to Khusant Chauhan in between the TRAU defenders but his first touch let him down and the opportunity slipped by because of poor technique.
Just before the half-time, Emeka again caused some panic in the Hindustan FC box, but his crosses were wasted by Reisangmei Vashum and Angousana Luwang as the two teams went into the break deadlocked at 0-0.
TRAU continued to dictate matters at the start of the second-half with Vashum shooting narrowly wide of the target five minutes into the session.
Hindustan FC, though, were not to be outdone and came close to scoring in the 57th minute when Nikhil Gehlot broke through on goal, but he was superbly denied in a one-on-one with TRAU goalkeeper Tajuddin.
Hindustan FC's attacking kingpin Kushant Chauhan also had a tough afternoon, in being closely marked and was not able to unleash his usual high-quality supply to the front men.
Towards the end, TRAU showed more endeavour in attack but they were unable to breach a Hindustan FC defence expertly marshalled by  Cheick Hamza Bamba and skipper Pushpender Kundu.

TRAU dominated as the game drew to a close, but an inspired substitution from Hindustan FC coach Vikrant Sharma sealed the victory, as Tushar Chaudhary kept his cool and nudged home the winner with less than four minutes to play.
The Hero 2nd Division League final round returns to the field on Sunday, May 27, 2018. Hindustan FC will take on Ozone FC while TRAU  will hope to get something from a game against Real Kashmir FC.