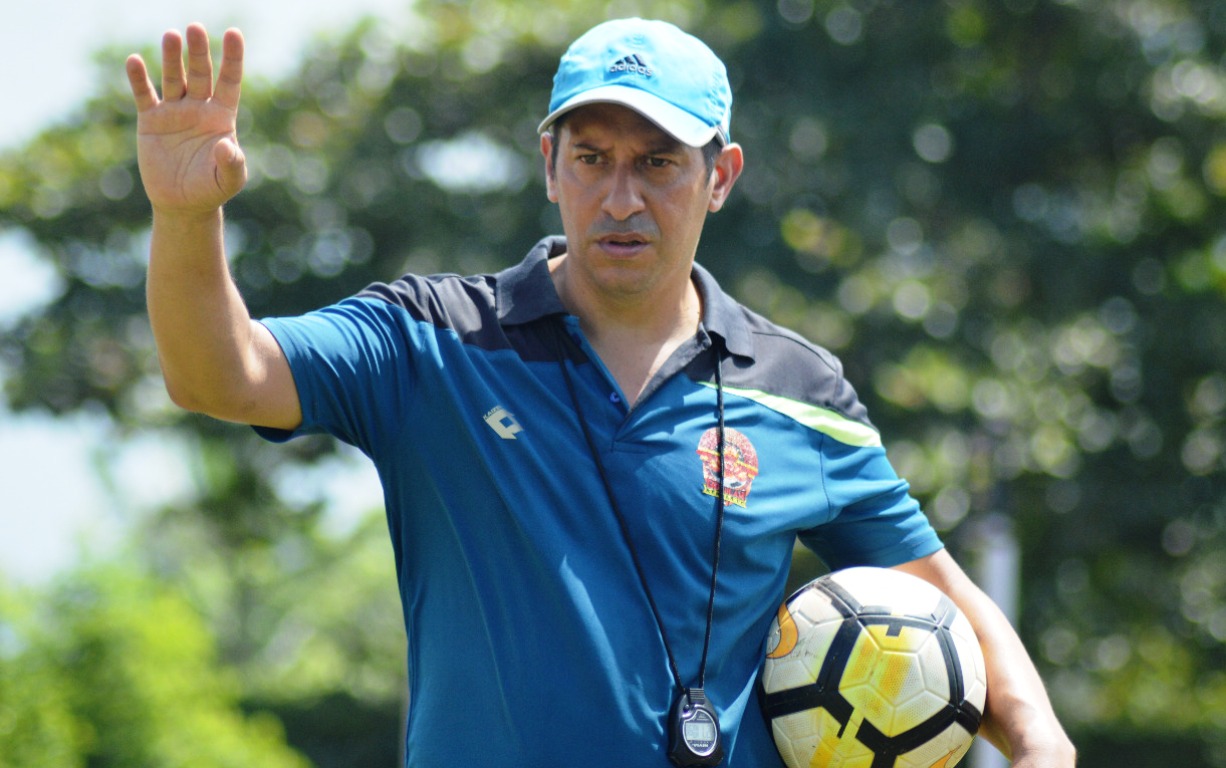 By Soumo Ghosh,
AIFF Media Team
KOLKATA: Upsetting Kolkata giants Quess East Bengal in the semifinals was arguably one of the greatest results ever produced by the Malabarians Gokulam Kerala FC so far, but now their Spanish coach Fernando Andres Santiago Varela is looking forward to repeating the feat once again in the Durand Cup 2019 final against the Mariners Mohun Bagan. Meanwhile, the match was termed as a 'battle of nerves' by the Spaniard.
"It'll be a battle of nerves what I feel. We had taken the game against East Bengal with responsibility and competitiveness as we have done for every match. Now, we don't want to lose our focus before the final," he said.
Meanwhile, he has already sensed the football fanaticism of Kolkata and he feels the Mariners will surely come in numbers and the Malabarians should prepare themselves to play the match in front of a not-so-welcoming hostile crowd.
"We must be focused on our game and not anything else. When one wants to give the maximum effort to achieve something, one must be prepared for any adversity and we're ready for the same as well", Varela commented.
Goalkeeper Ubaid's golden hands proved to be the crucial factor for the Kerala outfit in the penalty shootout after Marcus Joseph held his nerves to fire the spot-kick home in the dying embers of the regulation time against the Red and Golds in the semi-final.
"Ubaid is giving us a lot of security at the back and it's an added advantage for the defenders to have someone like Ubaid behind them. Marcus is also an exceptional player for us and his inclusion is always a plush for a team," the Spaniard stated.
Meanwhile, their Brazilian recruit Bruno Pelissari is yet to gain his match fitness but Varela doesn't want to rush him to the match anytime soon. He added, "Bruno is a fantastic player and he is gaining confidence every day. We must not hurry with his recovery now as we'll need him more in the upcoming season."
Meanwhile, Gokulam Kerala FC are still out in the market as their coach rounded off, "We are also working on possible new signings. Although nothing is defined, the players must have the zeal and feel the competitiveness as ours."
The Durand Cup 2019 final is slated to kick-off at 1700 hrs IST and it'll be telecast live on Star Sports 3 and Hotstar.