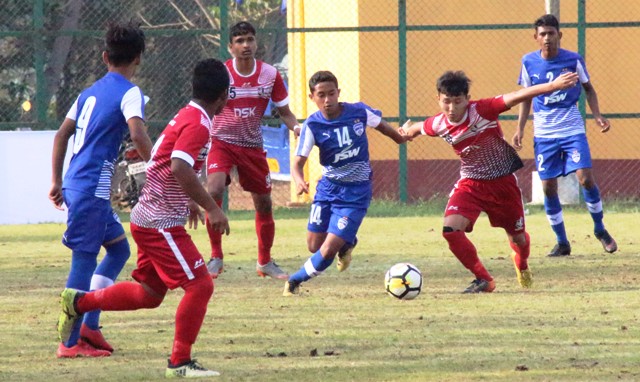 AIFF Media Team
GOA: It was jubilation for DSK Shivajians FC and heartbreak for Bengaluru FC as the Shivajians knocked out BFC to reach the Nike Premier Cup final for the first time ever.
The game was won in sudden death as DSK Shivajians won 5-4 in the shootout after the game ended 0-0 at the Nagoa sports complex ground, Goa on Tuesday (February 6, 2018).
Despite the stalemate, the game was not short of action and the penalty shootout offered a dramatic end to the game.
The result saw BFC lose the opportunity to advance to a first-ever final despite a dominant display in the 90 minutes of the game.
With a penalty shootout needed to declare a winner, Bengaluru FC took the first kick in the shootout.
Arkaprabha Das coolly converted his kick to put BFC 1-0 in front. DSK level things through Seigoumang Doungel as it became 1-1.
Aryan Sonowal took the second kick but his attempt was saved by Rewang Dorjee Lepcha. But the referee instructed for a second take as Lepcha was off his line before the shot. Aryan beat Lepcha the second time out.
A pivotal moment in the game came when Bawi Rou Sang's effort was punched away by BFC keeper Herojit Singh. Singh was brought on specifically for the shootout as he replaced Dipesh Chauhan who played the 90 minutes.
Singh put BFC in advantage as they were up 2-1.
Manish Chaudhary (BFC) and Sonminthang Haokip (DSK) scored their kicks as it became 3-2. But Bengaluru relinquished their lead when Saikat Das shot wide of the post. And Mintu Mech helped DSK draw level at 3-3.
Both teams scored from their fifth kicks as Lalhmunmawia FC (BFC) and DSK keeper Rewang Lepcha scored to make it 4-4 and forced the sudden-death.
Shresth Joshi's miss for Bengaluru FC helped Zamlunmang win the game for the Pune-outfit.
At the start of the game, Bengaluru FC had started out stronger. They were pressing and harrying the DSK Shivajians into losing possession and playing loose passes.
One such moment saw DSK custodian Lepcha's distribution get intercepted by Fredy Chawngthansanga try to beat Lepcha who was out of position.
But Lepcha managed to punch it out.
Due to the sustained pressure, the best chances for Shivajians were through shots from distance. One such opportunity from Rajesh Shendre had to be tipped onto the crossbar by Bengaluru goalkeeper Dipesh Chauhan.
The Bengaluru frontline of Saikat Das, Aryan Sonwal, and Francis Vanlaldika were working in tandem and were slicing open the Shivajians defence. But their defence held on.
The two sides restricted each other to half-chances and ended up cancelling each other out. In the end, it went down to the wire and Shivajians came out on top.