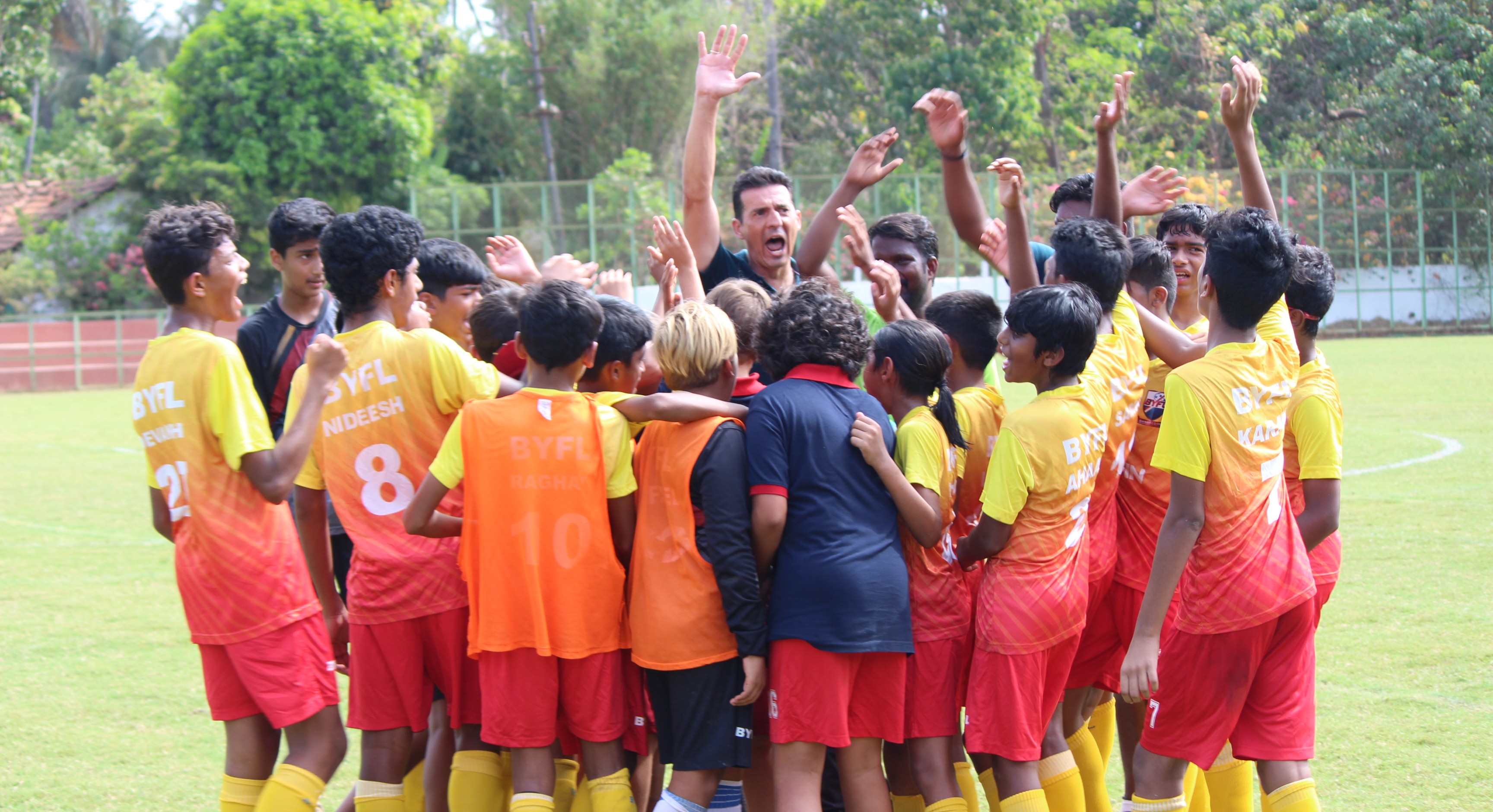 By Shraishth Jain
AIFF Media Team
Margao, May 21, 2019: Despite losing the Hero Sub-Junior League 2018-19 semifinal against Reliance Foundation Young Champs on Monday, the Bengaluru Youth Football League side won hearts for its display of tenacity and a never-say-die attitude.

Two goals down with a minute to play, the BYFL side equalized with two strikes in the dying embers of the game before going down in a nerve-wracking penalty shootout.
"It's a bittersweet feeling," said BYFL's Greek coach Petros Sideris, before adding, "We had prepared well and I am glad the players showed heart, determination and courage in the second half. Football is also about mental skills and I'm proud of the boys with the way they played."
Sideris, who is a UEFA B Diploma and AFC Goalkeeping Level 1 holder, also talked about the club's philosophy. "At BYFL, how you do things is as important as what you do. For example, we had seven players from last year's team which finished last in the zonal group. Today, they were one penalty from the final!," he exclaimed.
He added: "This shows that our approach is to invest in the players and help them improve. We plan to be in the top positions in the coming years while working in a quality manner."
The standout performer for BYFL in the semifinal was goalkeeper Som Kumar, who produced a number of top-class saves to keep his side in the game and was a commanding presence at the back for his team.
"It was a tough match and we played well, showing great spirit to score two goals in the end," said the 14-year-old Som, who is a student of Stonehill International School in Bengaluru and played his first competitive match at the age of nine in Dubai.
He also spoke about his ambitions and where he sees himself in the coming years. "I want to break a barrier and play in a top European league – such as the Premier League, Bundesliga or La Liga. I plan to train abroad in the future and want to keep working hard to achieve my dream," he stated confidently.