AIFF Media Team
BENGALURU: The fate of Group B of the Hero I-League Qualifiers 2021 will hang in the balance when Corbett FC take on Delhi FC on Saturday, October 9 at 12:30 PM IST at the Bangalore Football Stadium, in Bengaluru. As things stand, Delhi FC are tied level on three points with Kerala United FC and Kenkre FC in Group B, while Corbett FC bring up the rear with ARA FC with both teams level on one point each. The match will be streamed live on the Hero I-League's official Facebook page.
Corbett FC have battled hard in their maiden appearance at the Hero I-League Qualifiers, but the young side from Uttarakhand has found the going tough amidst the fierce competition. Having earned a point from their opening match against ARA FC, Corbett FC faced a 0-2 setback against Kerala United in the second round of fixtures. Things will not get easier from here, as Delhi FC will be one of the more difficult teams to face in their next match.
Corbett FC head coach Caetano Pinho highlighted the qualities of tomorrow's opposition in the virtual pre match press conference. Analysing the strengths of Delhi FC, Pinho said, "They are a well-balanced team with good quality players. They look well drilled and well prepared for this competition, but that does not mean that we will shy away from giving them a tough fight and come away with the maximum points."
Speaking about having a gameplan in mind for this crucial encounter, Pinho said, "We faced defeat in the last game because we got punished for our own errors. We will try to rectify them and look forward to the game. We always respect the opposition, so we will have to be cautious and execute our gameplan in tomorrow's contest."
On the other side of the coin, the mood in the team from the capital, Delhi FC, has been upbeat after a comprehensive victory in the side's campaign opener. Delhi FC carried the momentum from their positive showing in the Durand Cup into their first match, emerging 3-0 winners over ARA FC.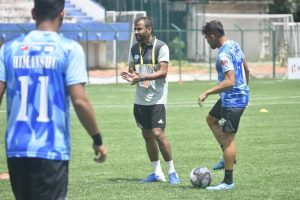 Head coach Surinder Singh reflected on his team's victory in the first match and conveyed his satisfaction over the performance. He said, "It was a debut match for DFC at this stage, and we were happy to get the win. We have taken a lot of time to prepare for this competition, so it was encouraging to see us play at a high level. I am confident that we can keep this up if we play to our strengths."
Fahad Temuri, the diminutive midfielder who got the first of Delhi FC's three goals on Thursday, spoke in the pre match press conference about his personal accomplishment of playing at this level. He said, "Yesterday was my first match at this level, so I was proud to score a goal and help the team win the match. It was a great feeling for me and my parents."
"Corbett FC has a good style of playing and I am sure it will be tough to play against them. We will have to study their past matches and devise a good plan to overcome them. I look forward to the match," Temuri added.
Surinder Singh spoke about his team's preparation for their second encounter against Corbett FC. He said, "We have a systematic approach for every match. Of course, we want to play our own style of football, but we also factor in the opposition and study their tendencies and their strengths and weaknesses. Based on all this information, we prepare our team accordingly and try to go for the win."