By Tanay Apte,
AIFF Media Team
NEW DELHI: After ending a 40-year wait for the Calcutta Football League title, Mohammedan Sporting look primed to mount a serious title challenge in the upcoming Hero I-League season. They will certainly aim to improve on last season's 6th place finish.
"We have shown good results and want to continue in the same way," said head coach Andrey Chernyshov.
High quality foreign recruits like Marcus Joseph and Nikola Stojanovic have already shown what they are capable of in Mohammedan Sporting's run to the Durand Cup final earlier this year. There will also be a number of eyes watching the young winger Faisal Ali who is slowly turning into one of the trickiest wide players around.
However, Chernyshov has downplayed his team's chances of going the distance in the Hero I-League, also preferring not to name a favourite until the season is underway.
"Not many are calling us as favourites for the tournament but there are many other good teams that would fall in that category," he said.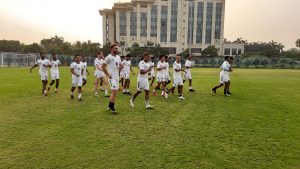 "I think all teams are preparing well for the season and we respect everyone. We will only know who will be contenders after the season starts."
The Russian prefers stability in his starting line-ups and he believes Mohammedan Sporting's squad is good enough to cope with the rigours of the Hero I-League season.
"I think we have prepared well. We have a lot of good players," he asserted.
After a challenging period of adapting to the bio bubble during the previous Hero I-League campaign, Chernyshov is confident that the Mohammedan Sporting players will be much better off this time.
"The players are better prepared for the bio bubble this time round having experienced this kind of a situation in recent times," he opined.