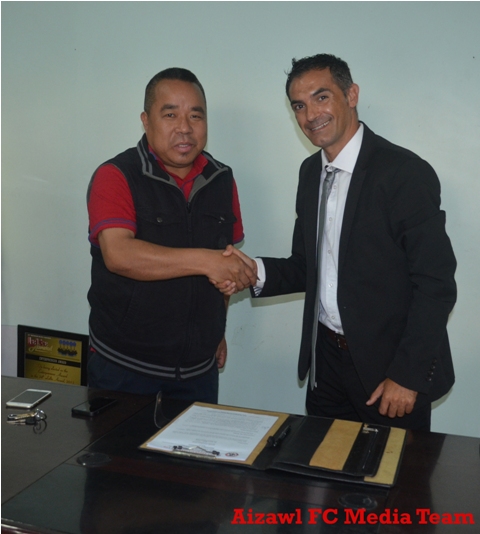 By Aizawl FC Media
AIZAWL: Aizawl FC, the entrants in Hero I-League club, inks a three years contract with Manuel Retamero Fraile, Spanish UEFA Pro-Licence holder, as Head Coach of the first team.
Fraile has worked with several clubs, especially Spanish, during his exciting career of eleven years and gathered pile of experiences. After he started his career with Betis C.F. in 2001, grabbed the opportunity in Villa de Simancas next year and stayed there for one season. Since 2003, he worked with several renowned gaffers in Betis C.F. for consecutive three seasons and amassed huge expertise. Before coaching C.D. Los Gatos de Iscar for three seasons (2007-08 to 2009-10), he had a short stint at Unión Delicias. During the season 2010-11, Fraile enjoyed his tenure with Real Valladolid S.A. D 'B' and switched to C.D. La Granja next year.
Robert R Royte, President of Aizawl FC, spoke his heart out while unveiling their new coach to the media, "Our young, energetic and experienced Head Coach will be the lynchpin of the team who, I'm quite sure, will work towards building the team both mentally as well as physically. A Spanish coach is bound to get success because Mizo style and Spanish style of football have quite a few similarities. Mr. Fraile is the right person to exploit Mizo talents to its fullest."
Now the onus is on Manuel Fraile to execute his plans and play out newer cards to outwit the biggies of Hero I-League. Undoubtedly, he has a lot to do before the next Hero I-League season and assemble the newer outfit to make a mark in Hero I-League in the first season itself akin to Royal Wahingdoh. We are here to watch what shrewd tricks he holds up his sleeve to match the expectations and overwhelm the veterans of Indian football.